Invitation for cooperation
If you operate a furniture salon or wholesale firm, or if you have such an intention and you are searching for products for your offer which will eagerly be bought by your customers, then our offer is for you. Polish furniture does not need advertisement. They sell quickly and well. If you still don't know, you better find out quickly - the competition does not sleep!
Companies that are interested in the importation of furniture, building materials and articles for interior design are invited to cooperate with us.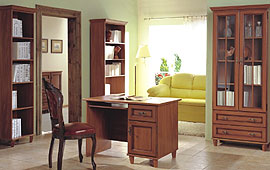 After agreeing upon the conditions of cooperation we will deliver the products to you at the place that you indicate. We specialize in the service of small firms (combined deliveries) and no product quantity for us is too small. We realize confirmed orders in 7 business days!
If there are assortments which are not on our web site, and there is a need for them, please inform us about this fact. We will find it for you at the lowest prices.