Several words about us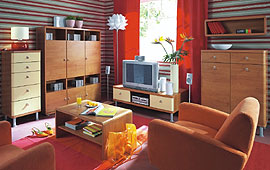 Polish furniture is famous all over the world for its quality, and above all for its low price. Furniture trade is an exceptional section of the Polish economy. Furniture is responsible for 7% of Polish exportation, it is Poland's leading group of goods.
Our firm deals with the trade of furniture for nearly 10 years. From the outset we dealt mainly with export, thanks to which today we have a large amount of experience in international trade. We have sold Polish furniture to nearly 20 various countries! We know the ins and outs of the furniture trade.
We offer our customers full service while buying furniture in Poland, from the moment that an order is sent to our firm, to its realization through the arrangement of all the formalities in shipping and at the borders.

We invite you to cooperate with us - with us you will have a good business venture!