Polish furniture
Polish furniture is famous all over the world for its quality, and above all for its low price. Furniture trade is an exceptional section of the Polish economy. Furniture is responsible for 7% of Polish exportation, it is Poland's leading group of goods.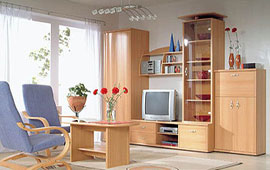 Polish producers have at their disposal technologically advanced equipment and qualified personnel.
The purpose of the internet service is to acquaint you with a furniture offer from Poland as well as help in making trade contacts.
In our service we introduce the most interesting examples - the best producers known for low price and interesting designs. Our furniture in your furniture salons will find buyers quickly and your profit will increase.
We invite you to acquaint yourself with our furniture offer from Poland.